Maggi, Pierce And E.J's new CD, "Live Covers"
is a collection of unpredictable songs that has inspired their unique sound throughout their career.
Ranging from artists like Yoko Ono, Frank Zappa and Johnny Cash to Melanie, David Bowie and
Paul Revere and the Raiders, this eclectic CD is the first one to stray from their series of original CDs
of solid colours (with their happy drawn faces on the cover). Through the years, audiences all over
the US, UK and Europe have requested these songs at MPE's live shows again and again.
Recorded in Berlin, mixed with Phil Nicolo (worked with Bob Dylan, Sting, John Lennon, Aerosmith and others)
at Studio 4 in Philadelphia, PA and mastered with Andrew Mendelson (worked with Neil Young, Ricky Skaggs,
Loretta Lynn, and others) at Georgetown Masters in Nashville, TN, this CD of 12 dazzling cover songs will have
you groovin and smiling in your car in a bumper-to-bumper traffic jam, boogying and laughing in your kitchen as
you chop a mountain of onions and skipping and whistling through the finish line of a 50-mile marathon!!!
This CD will soon become a cherished
favourite in your collection.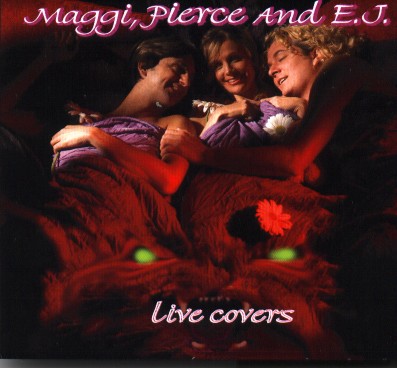 "Maggi, Pierce and E.J., a band known for their playful eclecticism, have stepped up with an unpredictable collection of covers that includes a few rarities and some songs you have heard before - with fresh rearrangements you will think you are hearing them for the first time. Their ragtimey cover of "Could This Be Magic" sounds nothing like Van Halen but gets phone calls at WMNF every time we play it."
- Randy Wynne, Program Director at WMNF in Tampa, FL 88.5 FM -

"Maggi, Pierce and E.J. have mastered the art of surprise, in both their recordings and rollicking live shows. LIVE COVERS is a thoroughly fresh, unpredictable batch of tunes, some of which you'll know and some you won't. But MPE have commandeered each and every one of these tracks and refashioned it in their own colorfully eccentric manner. Vocals throughout are a delight, and bonus points to Maggi for pulling off a stellar take on the Lambert, Hendricks and Ross classic "Twisted."
- Kevin Renick, PlaybackSTL Music Magazine -

"Joyful, tuneful and refreshing vesions of some of my favorite songs..what a delight. And besides, I've always wanted to get under the covers with Maggi..."
- Gene Shay, WXPN, 88.5 FM Philadelphia, PA -